For commercial building owners, switching to heat pumps is good for the climate—and for the bottom line.
What's new
Commercial and institutional buildings are a major and growing source of carbon emissions in Canada. However, our analysis shows that existing policies can bend the curve on emissions and put the sector in line with Canada's 2030 target (Figure 1).
Just as in the residential sector, heat pumps are crucial to driving the clean energy transition for commercial buildings. Switching to heat pumps isn't just good for the climate, though. It's also good for business—especially taking into account the significant government funding on the table.
Figure 1: Current policies bend the curve on emissions in commercial buildings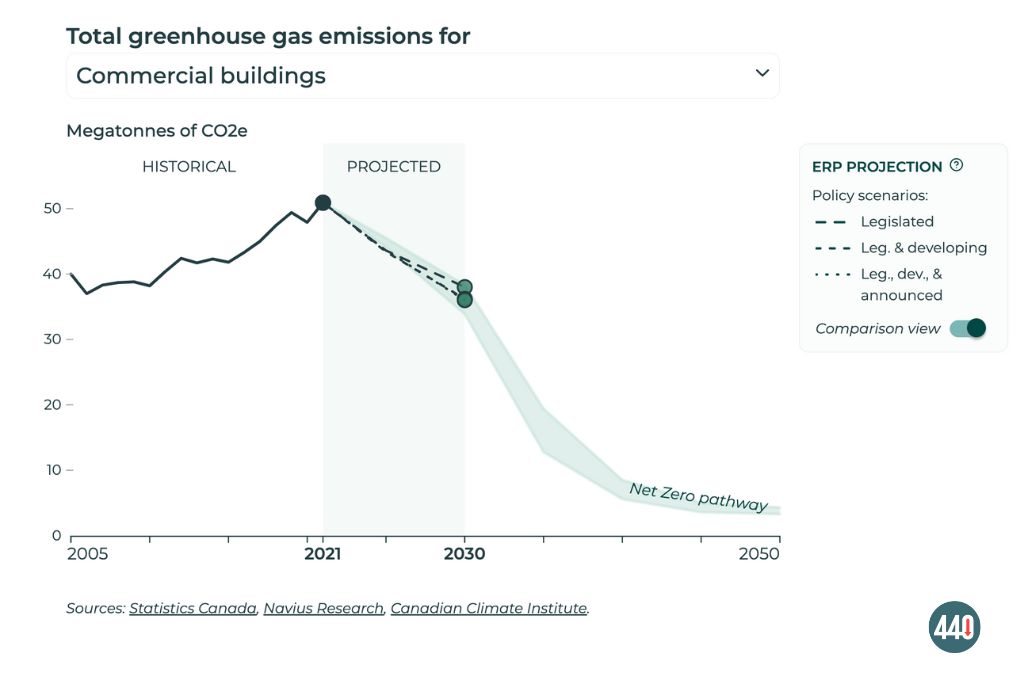 Heat pumps are a big asset in reducing emissions
Heat pumps are an effective solution in commercial buildings because they reduce emissions in two ways. First, they are as much as three to four times more efficient than gas furnaces, significantly reducing the amount of energy needed to heat or cool a building. Second, they run on electricity rather than burning fossil fuels, meaning they get even cleaner as the grid does.
With a wide variety of heat pump technologies on the market—including cold climate heat pumps that can operate in minus 30 degree weather—commercial and institutional buildings across Canada can make the switch today.
Our analysis of legislated, developing, and announced policies finds that, this decade, heat pumps will grow to approximately 22 per cent of total heating equipment in commercial buildings and as much as 42 per cent of new stock (Figure 2). However, unlike the residential building sector where electric resistance heating plays a major role, in the commercial sector most of the remaining heating stock will still be gas in 2030, according to these projections. While the rising share of heat pumps in this modelling represents a marked improvement in the sector, helping to bring it in line with Canada's 2030 target, there are big questions as to whether installing new gas furnaces in 2030 is compatible with achieving net zero by 2050, given the anticipated lifespan of new equipment.
There's money on the table
As our Policy Tracker shows (Figure 3), dozens of government supports are available or in development to help commercial building owners switch to heat pumps. The federal government alone has committed billions of dollars to retrofit community and commercial buildings, including a portion of the $2.2 billion top-up to the Low-Carbon Economy Fund, $2 billion to the Canada Infrastructure Bank, and $1.5 billion to the Green and Inclusive Community Buildings Program. Budget 2022 also expanded the accelerated tax deductions for business investments in clean technology to include heat pumps. The federal government has also committed to updating model building codes and efficiency standards for new construction as well as renovations to existing buildings, which could lead to heat pumps capturing a greater share of new installations.
Finally, in the 2022 Fall Economic Statement, the government announced a new refundable tax credit of 30 per cent for clean technology investments, including heat pumps. This additional measure is not yet reflected in this modelling analysis, and could further drive costs down and adoption rates up, resulting in faster progress towards Canada's climate commitments.
Figure 3: 440 Megatonnes' Policy Tracker shows dozens of government policies for the buildings sector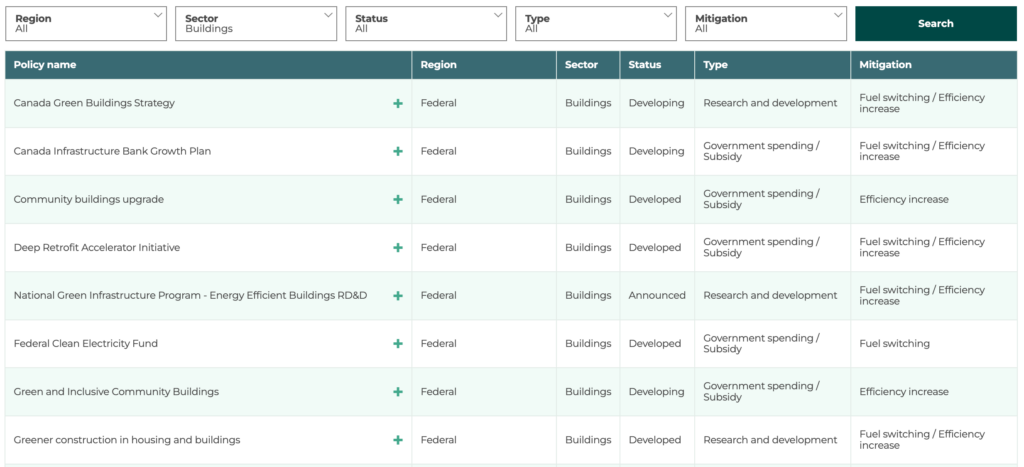 Heat pumps are good for business
Companies and institutions would be smart to take governments up on their offer to fund the switch to heat pumps. Heat pumps aren't just effective at tackling carbon emissions, they're also good for business.
Switching from gas to heat pumps can reduce costs. Heat pumps use as much as 50 per cent less energy than a gas furnace to heat a building, translating to significant savings on monthly energy bills. Rising gas prices in Canada also make electric heat pumps more attractive, especially as the federal fuel charge increases the sticker price of fossil fuels. And while the upfront costs for purchasing and installing equipment remains one of the main barriers to heat pump adoption, government loans and rebates lower these costs. In addition, by providing both heating and cooling, heat pumps eliminate the need for separate systems, reducing both upfront and operating costs.
For companies with climate commitments, switching from gas to heat pumps can also make a serious dent in Scope 1 emissions, getting them closer to their stated targets. Finally, with new codes and standards coming down the pipe, companies and institutions would be wise to make the switch proactively and avoid investing in heating equipment that may have to be replaced before its end-of-life.
With so many incentives to make the switch to heat pumps, the commercial building sector is poised for major emissions reductions this decade.
---
Anna Kanduth is a Research Lead/440 Project Manager with the Canadian Climate Institute.