By 2030, more than 10 per cent of home heating in Canada must come from heat pumps —almost double current levels — to align with Canada's climate targets.
What's new?
Since 2005, greenhouse gas emissions from residential buildings have remained flat. Reducing these emissions is crucial to hitting Canada's climate targets.
Heat pumps are poised to disrupt the sector with the promise of clean and highly efficient home heating and cooling. They aren't, however, being deployed fast enough yet to put residential buildings on a path to Canada's 2030 target. With almost 80 per cent of the sector's emissions coming from space and water heating technologies, a widespread switch to heat pumps could make a big difference—if uptake accelerates fast enough.
Why heat pumps matter
Heat pumps are critical to Canada's energy transition for several reasons.
Heat pumps run on electricity, rather than fossil fuels, making them an important tool in Canada's big switch to clean electricity. They also use up to 70 per cent less energy than conventional home heating technologies, promising savings for homeowners and renters.
What's more, by providing both heating and cooling, heat pumps can help people manage climate impacts, especially in regions like British Columbia where most households lack air conditioning but face hotter and more frequent summer heat waves.
A leading indicator of decarbonization
According to 440 Megatonnes' new Emissions Reduction Pathways Tracker, implementing policies already announced by federal, provincial, and territorial governments can bend the emissions curve and bring the residential building sector in line with Canada's 2030 target.
Figure 1: Implementing announced policies can bend the curve on residential building emissions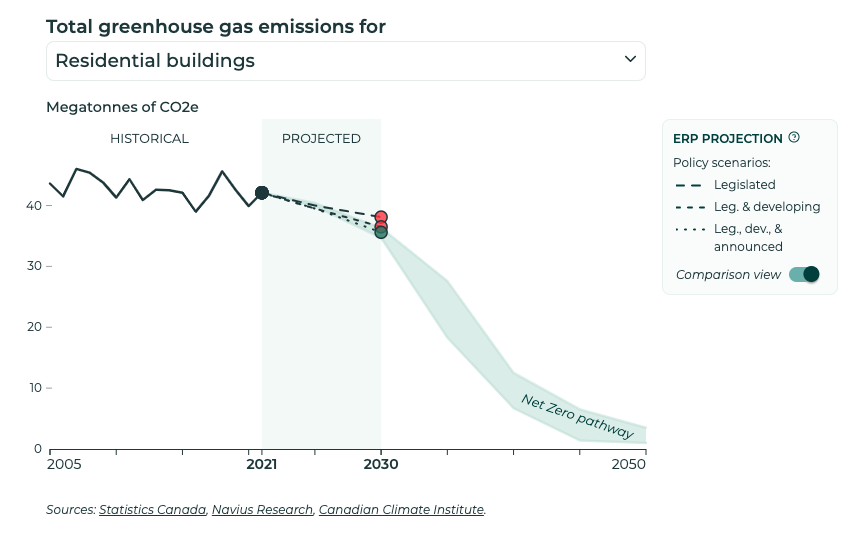 However, the share of heat provided by heat pumps in Canadian homes—a leading indicator of building sector decarbonization—must accelerate to align with Canada's climate targets.
The number of heat pumps installed in Canadian homes has risen steadily from 400,000 to 850,000 over the last 15 years. However, in the same period, the share of home heating provided by heat pumps has only risen from roughly four to six per cent. To hit projections under the Emissions Reduction Plan, their share of total heating load will need to double in the next eight years, to more than ten per cent of home heating provided by heat pumps.
all hands on deck
The policies laid out in the federal government's Emissions Reduction Plan–in addition to actions by provinces, municipalities, and Indigenous communities–could go a long way in accelerating heat pump adoption.
The list of federal policies includes the Canada Greener Homes Grant, the Canada Green Buildings Strategy, and money for residential retrofits—including funding for provinces and territories under the Low Carbon Economy Fund (LCEF) for low-income households using heating oil. Several provinces and territories, for their part, have implemented policies that can accelerate heat pump adoption, including building code standards, retrofit programs, and rebates.
However, these policies aren't yet delivering on the scale needed to double the share of heat pumps by 2030, despite growing interest in heat pumps across Canada. At the federal level, the Canada Green Buildings Strategy includes little to no information about how it plans to achieve net zero in the building sector by 2050. Details of how exactly provinces will allocate LCEF funds for residential retrofits are still fuzzy. And the Canada Greener Homes Grant has faced challenges in getting heat pumps into homes.
To bend the curve on residential building emissions, policies must be implemented in a timely, effective, and coordinated way to ensure that heat pumps are available and accessible to all Canadian households. Effectively, this will require all orders of government working together to ensure that heat pumps are the heating and cooling technology of choice in almost all new homes, and retrofitting a bunch of existing homes as well.